Richards Header Tank repair
---
Here are some pictures of my tank.
I do not seem to have a picture of the patch.The patch was installed in the right lower rear corner of the tank.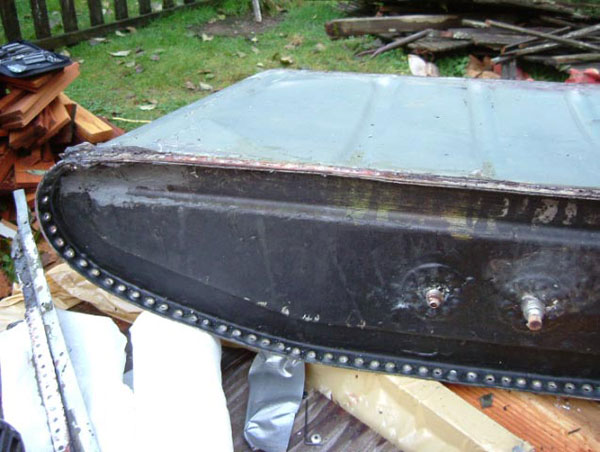 I formed it with a flange from as I remember 6061-0 aluminum.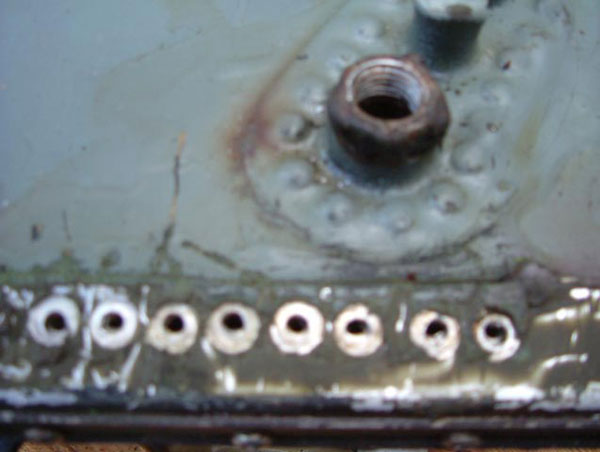 The rivets used were AN426A-5 (5/16 long). Use a #21drill bit to enlarge the holes. You need to re-dimple the rivet holes for the 5/32 flush rivets.
You should etch the inside with a metal etch such as aluma-dyne. There are better and more detailed articles on tank repair on the Ercoupe tech archives.
There are 2 tubes in the header tank. One is the overflow and sets the level of the fuel in the tank. The other is the pump outlet. The pump outlet *must* be higher than the overflow tube. On the early tanks the one you can see when looking into the filler neck is the pump outlet, not the overflow. John Cooper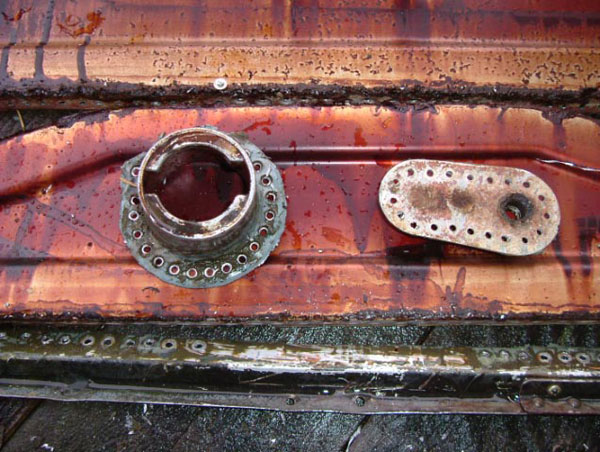 I borrowed a hand rivet squeezer to do the dimpling and riveting. It helps to have an extra set of hands as it is a messy job and the pro-seal sets up fairly fast. Your inspector will have to sign off the repair so you need to work with him and follow his advice. I am no expert on this subject only relaying what worked for me after careful evaluation of the info available at the time and working in direct supervision by my inspector. I is a lot of work and time consuming. My advise would be to send the tank to Skyport for repair.
Richard
Overflow and fuel inlet stand pipe of later style tanks
There is a potential exception applicable to s/n 2623 thru 3220. The original header fuel tank utilized a standpipe overflow system, instead of the overflow vent in the rear wall of the tank. Vibration caused these standpipes to fail, and crack. This allowed the header tank to completely empty back into the wing tanks, leaving the header empty.
See Service Dept Memorandum No. 43. All coupes header tanks should have been replaced, but there are probable some out there with the original stand pipe system. This is quickly identified, as there are three outlets on the bottom of the header tank.
Harry Francis